Diti Loves is a unique NEW handmade accessory line based in India, selling for a limited time in NYC. Diti Mistry is the woman behind the whimsical creations you'll see below in this Q+A with the young designer.
I was drawn to Diti while attending a pop-up store opening party (a few posts ago: The Bowery Bond), not knowing she was one of the designers featured that night (and ongoing) in the store. Demure and unassuming, Diti was wearing an unforgettable Frida Kahlo pin, which I immediately had to compliment (who doesn't love Frida?). We exchanged details that night. Shortly thereafter, she asked if I would model her accessories for her online store - obviously, I was delighted to oblige!
I am excited to share a bit of Diti's story, along with her beautiful, eye-catching pieces in this Q+A (via email) between myself and Ms. Mistry - enjoy, and don't forget to check out her one-of-a-kind accessories online or in NYC.
What or who has inspired you to design jewelry+accessories?
I was interning in a Design house in South India as a content writer. They design beautiful clothes and fabric. I started collecting waste fabric over there and making head gears for myself and my friends. My workplace inspired me a lot. I became more conscious of the surrounding and started designing and stitching.
materials make up the majority of sources Diti utilizes to create the accessories in her line. After ideation, it typically takes her 3-4 hours to construct each piece.
What materials do you use - and why did you choose them as your aesthetic?
I started with just fabric and beads. Currently, I'm experimenting with different kinds of Jute, and also canvas to make my illustration part of the jewelry. To be honest... fabric is everywhere. I start sourcing from my house and then step out... Jute is much lighter and playful.

How old were you when you first started creating jewelry+accessories?
I remember as a kid I used burn plastic bangles and twist wire and make them into earrings. But it was in my first internship, when I was 22 that I started creating these. And now I'm planning to take it much more seriously.

What is your favorite style of jewelry to wear? And, are there any particular designers you love?
"I remember as a kid I used burn plastic bangles
and twist wire, and make them into earrings." - Diti Mistry
I love to shop at flea markets and explore different artists and designers. My jewelry style is quite bohemian. Currently I'm crushing over Eleanor Bolton's designs, London based jewelry designer.

What do you hope to accomplish through your line of designs and jewelry?
I wish keep growing the pieces I've created while I exploring the nature around me, and my own nature.
6. I love your Frida pin design! Do you plan to create any more Frida-inspired pins or jewelry pieces, or any other icons?
Yes I'm working on few other icons as well. Let's see :)
7. How did you get involved in selling at The Bowery Bond?
I had come to checkout Bowery, where CBGB movie was shot. I was walking around with my friend and I saw The Bowery Bond and just walked in - I was wearing my Frida pin which started my conversation with Tara, and then it just happened.
8. What advice would you give yourself 10 years ago?
To keep working hard.
What is the name of the university/college you attended and the year your graduated?
I went to National Institute of Fashion and Technology, Mumbai, India. I graduated in 2015.

11. How would you describe your line of accessories?
They are an amalgamation of my many interests. It's an artistic adventure of stitching and sketching and creating new art everyday.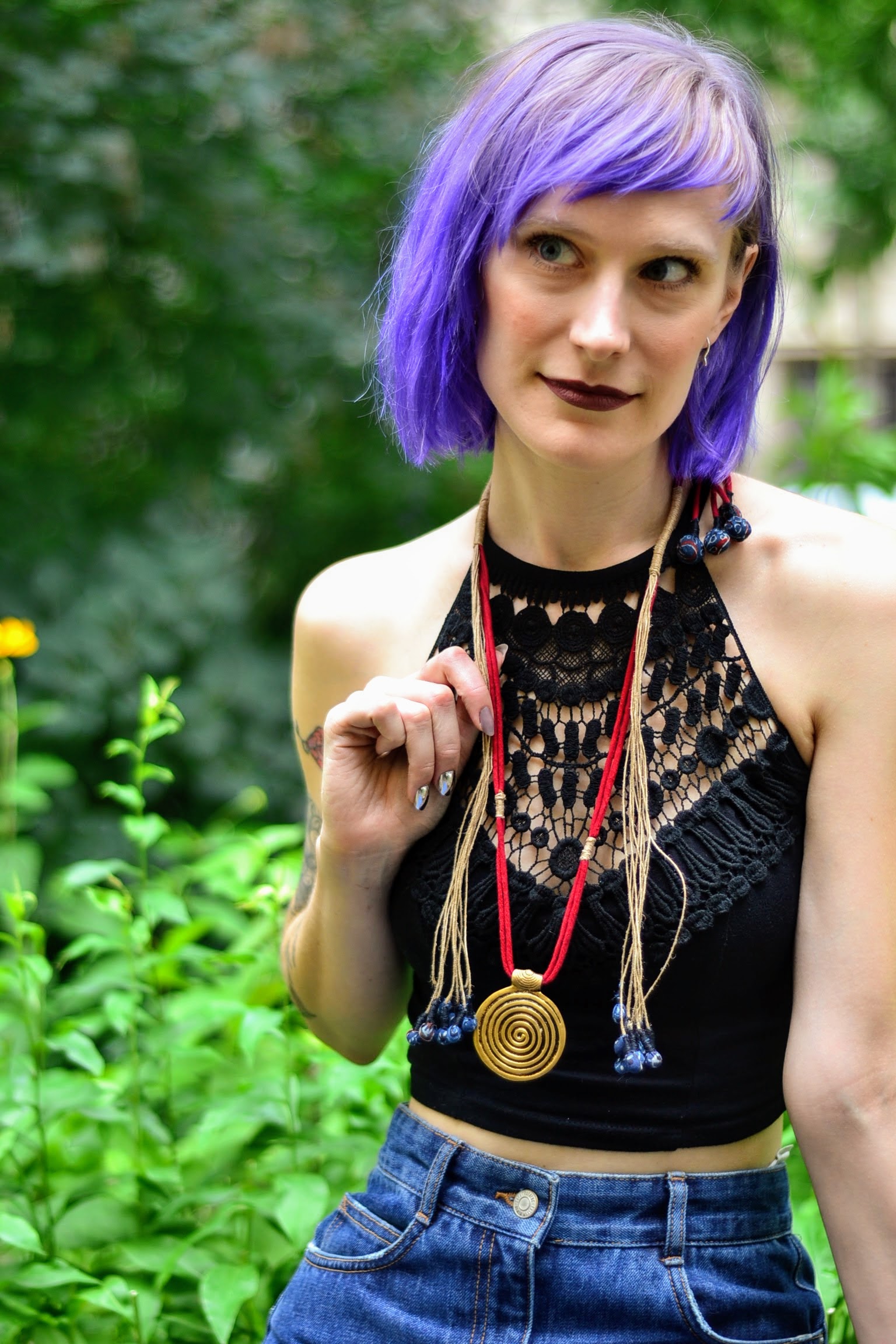 amalgamation of my many interests. It's an artistic adventure..." - Diti
I hope you enjoyed familiarizing yourself with Diti, and get to know her work!
XO Lauren
Photos and writing by Lauren A. Oosterlinck and Diti Mistry, 2017.